NON CARBONATED BEVERAGE / JUICE PROCESS
JUICE MANUFACTURING PROCESS
There are Two variants namely : RTS & Carbonated fruit beverages
Ready to serve (RTS) drink sweetened: This is a type of fruit beverage which contains at least 10% fruit juice (for lime drink 5% juice) and not less than 10% total soluble solids. The acidity in these drinks shall not exceed 3.5% as citric acid. example: FROOTI, MAAZA
Ready to serve (RTS) drink Natural Fruit Juice This is a type of fruit beverage which contains min. 85% fruit juice and not less than 10% total soluble solids. The acidity in these drinks shall not exceed 5% as citric acid. example: TROPICANA
RTS beverages are preserved by using class II preservatives not exceeding 70 ppm SO2 or 120 ppm benzoic acid. It is not diluted before serving hence it is known as ready to serve drink for example mango drink, guava drink, pineapple drink etc.
Carbonated fruit beverages: It is a ready to serve fruit juice beverage which contains variable amount of fruit juice, sugar, acid etc and are impregnated with carbon dioxide gas. Apple juice, Lime, Lemon and Grape juice can be used for the preparation of carbonated fruit juice beverages. They are prepared either by pre mix or post mix method.
Fruit Products Order (FPO) specifications for fruit beverages
| Product | Minimum % of total soluble solids in final product (w/w) | Minimum % of fruit juice in final product (w/w) | Maximum acidity expressed as citric acid (%) |
| --- | --- | --- | --- |
| Unsweetened juice | Natural | 100 | 3.5 |
| Fruit syrup | 65 | 25 | 3.5 |
| Crush | 55 | 25 | 3.5 |
| Squash | 40 | 25 | 1.5 |
| Fruit nectar (excluding orange and pineapple) | 15 | 20 | 1.5 |
| Orange and pineapple nectars | 15 | 40 | 1.5 |
| Cordial | 30 | 25 | 3.5 |
| Sweetened juice | 10 | 85 | - |
| Lime/lemon Ready to serve beverage | 10 | 5 | - |
| Ready-to-serve beverage/drink | 10 | 10 | - |
| Fruit juice concentrate | 32 | 100 | - |
| Synthetic syrup/sherbet | 65 | - | - |
MANUFACTURING PROCESS :
SUGAR SYRUP PREPARATION
Syrup at desired Brix percentage is prepared please check process details in Syrup section
PULP DILUTION
Pre extracted pulp from containers are diluted to a certain flow consistency for further mixing in the drink.
BLENDING
All ingredients of required proportion which include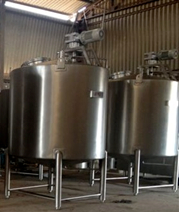 RO Purified water
Pulp
Sugar syrup
Additives : Acidity regulators , Class I & II preservatives, Stabilizer's etc.
Flavor & Color : Natural identical flavor & color
All the above are blended in a blending tank to form a primary mixture using agitators, generally stainless-steel tanks are used for the production process with internal CIP spray ball arrangements
HOMOGENISER & BEVERAGE STORAGE
The homogenizer is used to micronize the particles of the treated product, thus ameliorating its mixing and stability; in other words, it makes the products "homogeneous". It is used in all the fields where, perfect emulsions with a high degree of suspension and dispersion and micronized particles perfectly stable and uniform are needed.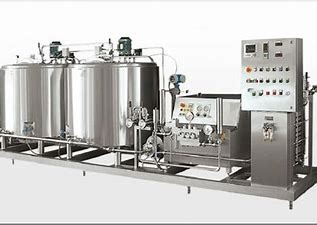 The Diluted Pulp, Treated Water, Concentrate, Sugar syrup and additives blended in the Beverage Blending Tank however blended uniformly do not mix up evenly and may cause flavor discharge and lumps during filling, specially in case of fruit pulp. To avoid uneven mixing of product the beverage is homogenized to get a uniform mixing of all elements in the juice to micron levels which enhances the polar structure of the juice and gives uniform taste & color in every sip of the product.
The Homogenized Product is then stored in the Beverage Holding Tank which is provided with an agitator to prevent the constituents in the beverage from settling and which can be held to match up time requirement for the filling line until the next batch of beverage is ready for further process
PASTEURISATION
A pasteurizer is a device which pasteurizes, treating a food or beverage product to kill disease-causing organisms such as bacteria.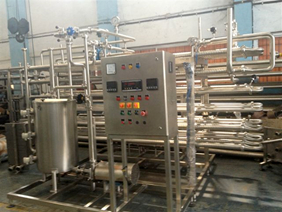 Pulp is one of the most widely pasteurized foods. Pasteurization is used to make the beverage safer, so that it can be sold commercially without concerns that the consumer will get affected in any way when they consume it.
One of the most common styles in which the Pasteurizer work is the high temperature, short time (HTST) or flash pasteurizer, which brings food to a very high temperature for a brief period to kill bacteria before rapidly cooling it. Related is the higher heat, shorter time (HHST) pasteurization method.
Pasteurizers are normally used for extended shelf life, which can render foods and beverage so stable that they can be stored at room temperature in aseptic containers or in normal PET containers in Cold temperature for several months. This Pasteurized beverage is sent to the Hot fill Type Filling Machine for filling.
HOT FILL
Hot Fill machines are used to fill the beverage in containers Lines starting from 30 bpm to 500 bpm are available
The Lines come with a recirculation system which ensures no crystallization and semi solid formation and the temperature is maintained continuously at the time of filling
Cooling tunnels are also used with speed lines to cool the beverage and bring it back to room temperature to avoid vapor condensate formation inside the bottle which may damage the beverage over the shelf life, in smaller lines cool water baths are used for the purpose to avoid escalation in CAPEX