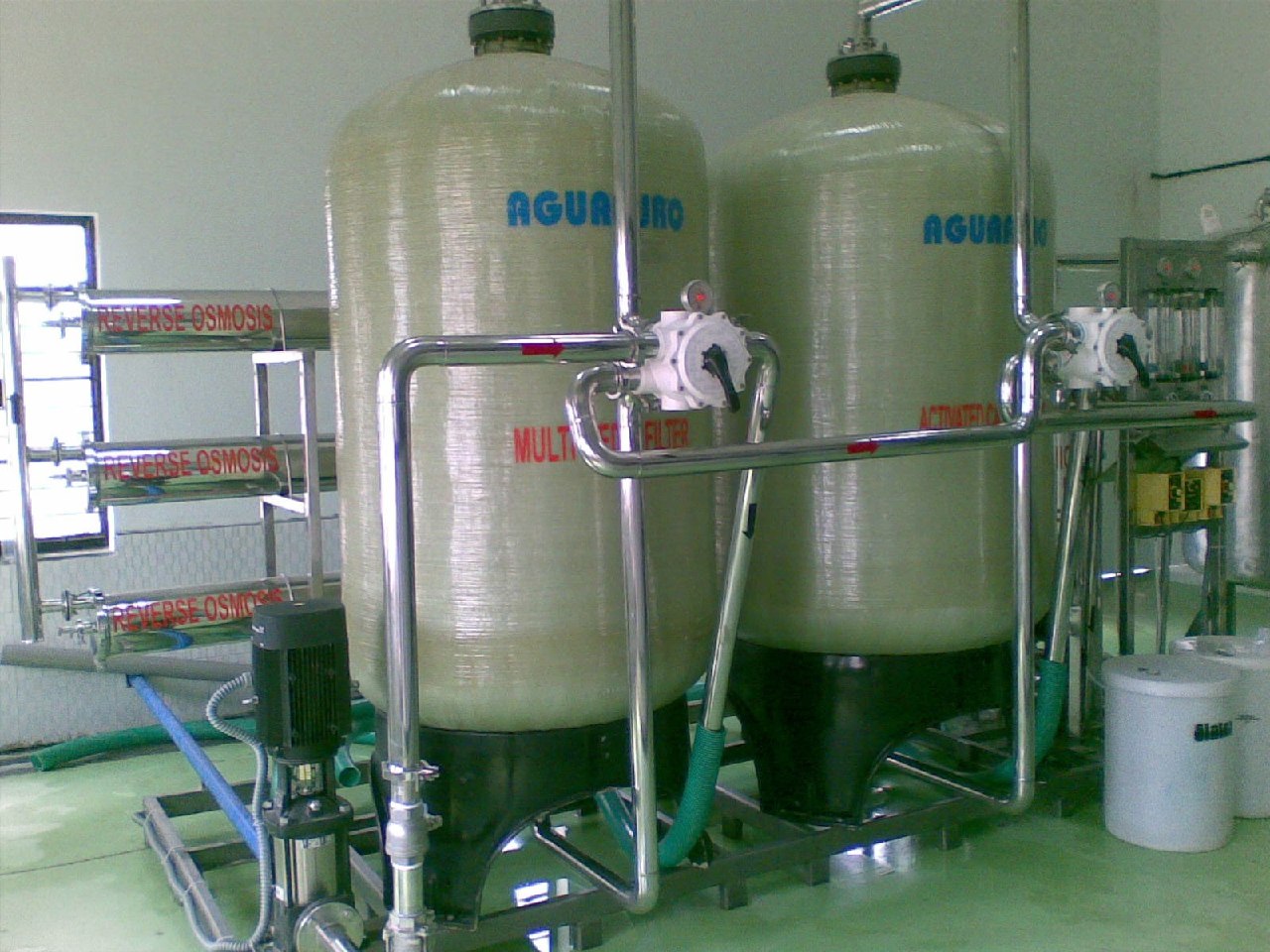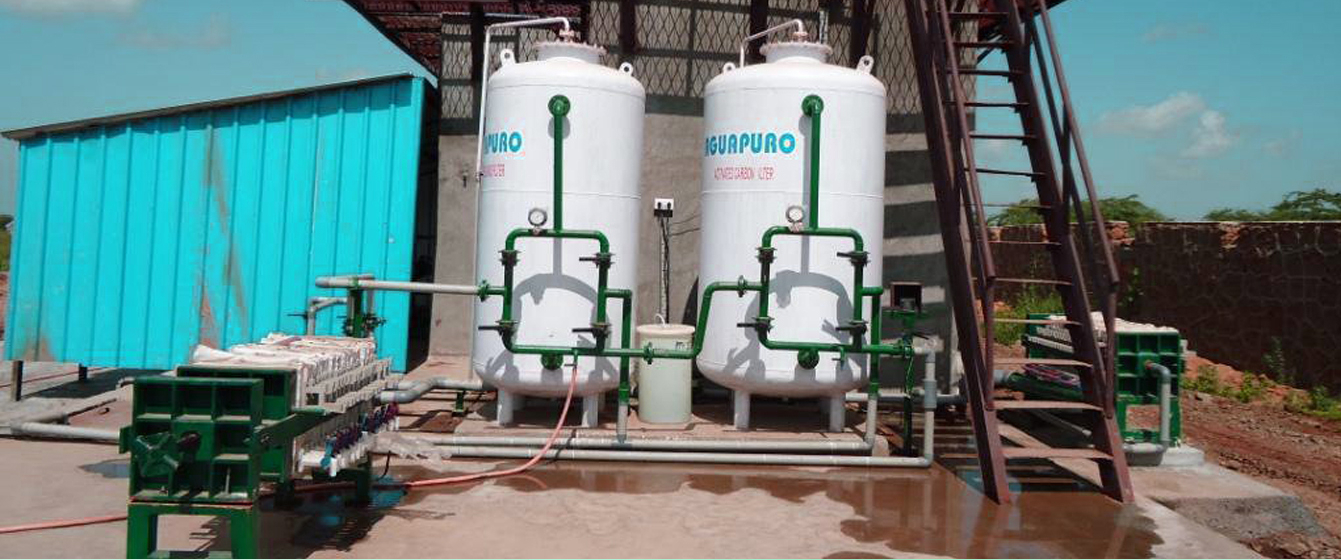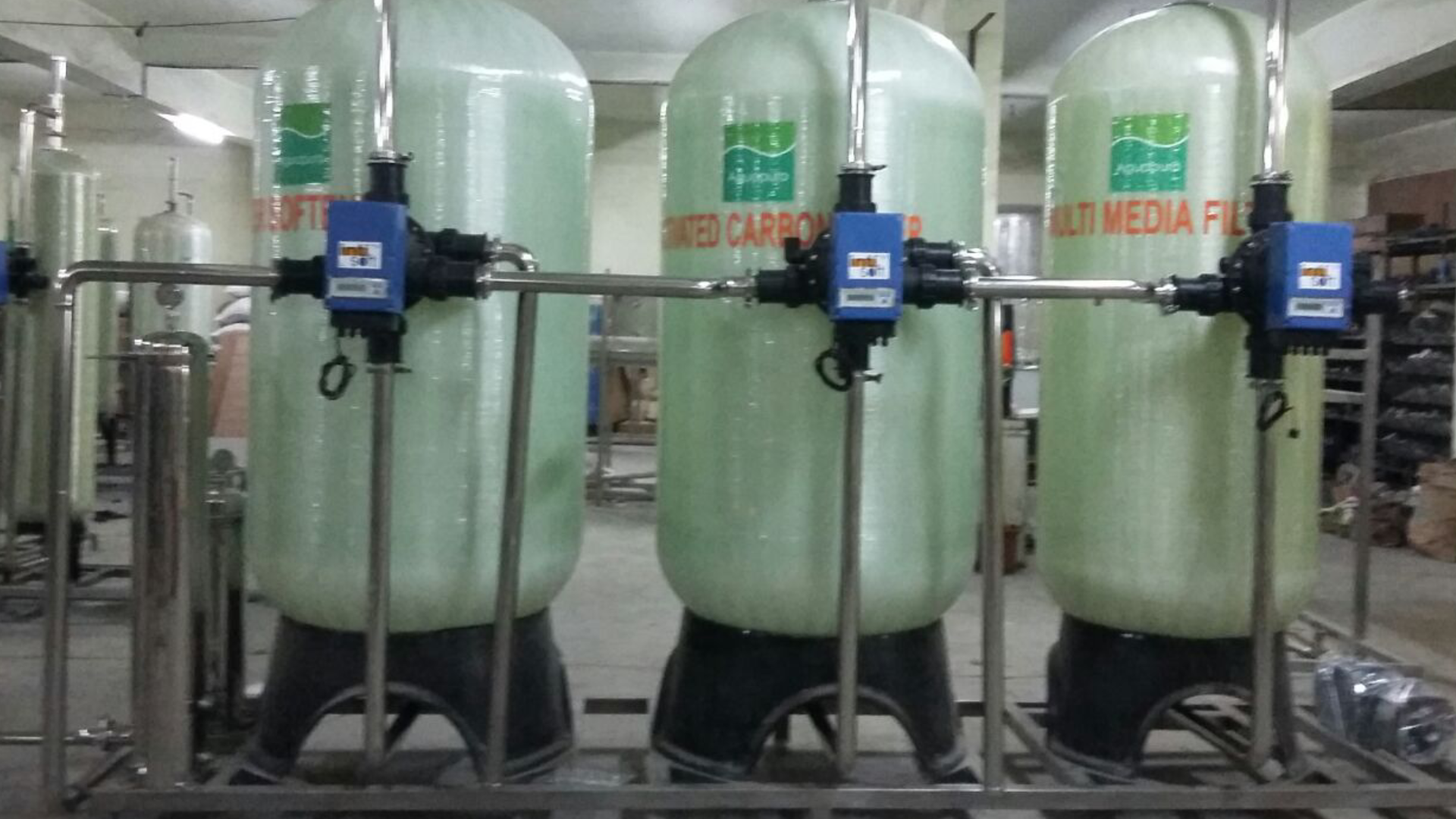 Mineral Water / Packaged Drinking Water Project consist of following
| | |
| --- | --- |
| Raw Water Source | PET BOTTLE blowing Machine |
| Raw Water Transfer | PET BOTTLE Rinse, Fill, Cap, Label Machine |
| Raw Water Storage | POUCH Form, Fill & Seal machine |
| Water Treatment System | GLASS Rinse, Fill & Seal machine |
| Water Testing Facility | 20 Ltr JAR Washing & Filling Machine |
| Production Machineries | Injection Moulding Machine |
Water Source
Water should be collected from the source which should be well protected, available easily, un-contaminated. Sources can be anything viz. Bore well water Line, Closed Ring Well, Municipal Supply Line or Other source where treatment is possible.
Water Transfer
Water is transferred to Raw Water Storage Tanks using proper pumping system and un-contaminating piping work. Either Submersible Pump or surface mounted Centrifugal pump can be used with good quality UPVC or CPVC or SS piping can be used for this application.
Water Treatment System
Complete Purification system comprising of
Raw Water feed Pump
Chlorine Dosing system
Multi Media Filtration for Coarse filtration
Activated Carbon Filtration
Water Softening / Anti Scalent Treatment Process
Reverse Osmosis Or Nano / Ultra Filtration
Purified Water Storage in Stainless Steel tank
Transfer Pump in stainless steel
Micron Cartridge Filtration (0.2 Micron)
UV Sterilization
Ozone Disinfection
---
Water Process Description:
Raw water is chlorinated or Ozonated to oxidize the organic impurities (kill bacteria and virus). This water is passed through Multi Media Filter with the help of Feed pump of suitable capacity to remove suspended impurities followed by Activated Carbon Filter to remove excess chlorine (de-chlorination), odour, colour and turbidity due to colloidal suspended impurities and organic impurities.
De chlorinated water is then dosed with Anti Scalent Solution to avoid scale formation on the membrane or passed through Softener to remove hardness. Softened water is further passed through 10-micron cartridge filter to remove micron particles to avoid clogging of the RO membrane and to improve the silt density index. Water further passed though RO Unit which is complete with High Pressure Pump, Membranes with Pressure tubes, Electrical control panel and wet panel, piping with valves and all the required accessories viz., pressure switch, solenoid valve etc. Reverse Osmosis unit will reduce the dissolved Salts up to 95% of the In feed TDS. Treated water from RO unit will be stored into SS tank.
This treated water is then passed through 0.2 micron cartridge filter before it is taken for the filling. Ozonator unit producing ozone gas is installed in series at the outlet of UV System to provide residual effect of ozone to the water.
Water Testing Facility
Purified Water is tested using IN HOUSE Water Testing laboratory Where Chemical and Micro Biologically Water is tested for Chemical and Micro Biological parameters. For this, a complete full fledge Water Testing CHEMICAL and MICRO BIOLOGICAL Lab is required. However, water is also tested for Pesticide and Radio-nuclear parameters in outside Bureau of Indian standards approved laboratory.
Laboratory Requirements
| | |
| --- | --- |
| Chemical Lab | Min 150 sf ft Room / Shelves, Cup-boards (Your Scope) All Required Chemicals and Reagents Glassware / PP Ware Instruments as per BIS |
| Micro-Biology Lab | Min 150 sf ft Room / Shelves, Cup-boards (Your Scope) All Required Chemicals and Reagents Instruments as per BIS |
Production Machineries
PET BOTTLE blowing Machine
Water once purified is filled in PET Bottles where bottles can be blown IN HOUSE using Bottle stretch Blow Moulding Machine. This Machine requires Heavy duty Compressor with Compressor Air Dryer unit. Bottles are blown using Semi Automatic Twin Blow blow machine.
Blow Moulding Machines are available in following capacities:
Semi Auto - 600 Bottles or 1200 Bottles per hour and multiple of 600 BPH
Fully Auto - 1200 BPH / 1800 BPH / 2400 BPH / 3600 BPH / 4500 BPH etc.
Machines are available with all the accessories viz.
Storage Hopper and Automatic Feeder of Pet Preforms
Bottle on line Feeder on Air Conveyor
Air Compressor/s suitable capacity
Compressed Air Dryer & Filters
Chiller Unit of suitable capacity
Various capacity Hard Chrome Diamond Finish PET Bottle Moulds.
PET BOTTLE Rinse, Fill, Cap, Label Machine
Machine has fully automatic Rinsing, Filling, Capping operations.
Body Labeling with Hot Melt BOPP Labels OR PVC Shrink Labels.
Product Hygienic and untouched by human hand.
Can Fill 500 ml to 2.0 Lt in the same machine, using change parts at an extra.
Machine Capacities
Various capacity Machines are available
24 Bottles / min
40-50 Bottles/min
72-80 Bottles/min
100-120 Bottles/min
150 / 200 / 250 / 300 Bottles per min and more
Machines are supplied with standard accessories
In feed Air Conveyor of SS body with 2.5 mtr length along with drive.
Out feed Conveyor of SS body with 7.5 mtr length along with drive.
Electrical panel with the machine along with timers, relays, PLC etc.
Inspection Board mounted on out feed conveyor
Shrink tunnel for shrinking the labels and cap sleeves
One set of change parts for one size of bottles. For different sizes of bottles different change parts are required which will be sent at additional cost.
Computerized Digital Batch & Date Coding Machine to match with machine (Optional)
20 Ltr JAR Washing & Filling Machine
This section consists of 3 units mainly
Jar brusher Unit
Jar Washer Unit - 2 nos.
Jar Filler Unit
Jar Capper Unit
Various capacity Jar Machines are available
60-80 Jars / min
120 Jars /min
240 Jars /min
500 Jars /min