The hydro pneumatic system consists of a pressure pump and a pressure tank. The pressure tank consists of a rubber bladder surrounded by pressurized air. Water being a non-compressible fluid, pressurized air is used. When you open, say a tap or shower knob water from this pressure tank is utilized.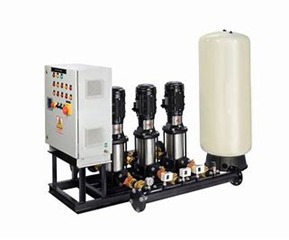 Types of HYDROPNEUMATIC SYSTEMS
Constant Speed System : Tank filling water transfer, residential housing, small size commercial – residential buildings
Cascade system (only 1 VFD common to all pumps): Medium size commercial – residential buildings and demand-based industrial applications
All Pump VFD system (all pumps having their individual VFD): Townships, hospitals, airports, malls, metros and demand-based industrial applications
Applications :
The centrifugal pumps are the frequently used pumps, and the flow of fluid makes them useful in several applications like
Tank filling system from Under Ground Tank (UGT) to Over Head Tank (OHT)
Water supply to residential buildings, hotels, commercial buildings, township, airports, IT parks, etc.
Water transfer from one storage tank to other storage tank
Bottling plant and demand-based industrial applications in textile, process, automobile, power, steel, cement, power, etc.
Municipal corporation water supply schemes
Irrigation and gardening system
Custom Make Hydropneumatics systems can be designed as per requirement and applications
Please contact our Team for further information.