Dynamic pumps are classified into different types but some of them are discussed below like Centrifugal, Vertical centrifugal, Horizontal centrifugal, Submersible, and Fire hydrant systems.
1) Centrifugal Pumps
These types of pumps are most commonly used worldwide. The working is very simple & this pump is strong, efficient and fairly economical. Whenever the pump is in action, then the fluid pressure will increase from the inlet of the pump to its outlet. The change of pressure will drive the liquid throughout the system.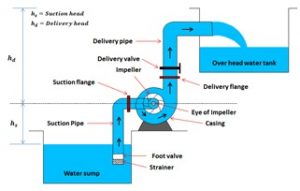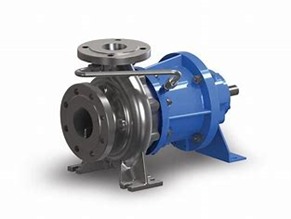 This kind of pump produces an enhancement within force by transmitting mechanical power from the electrical motor to the liquid throughout the revolving impeller. The flow of liquid will enter the center of the impeller and exits along with its blades. The centrifugal power hereby enhances the velocity of fluid.
Types of Centrifugal Pump
Based on the number of impellers used within the pump, these pumps are classified into the following types.
Single Stage Pump
The single stage pump is a single impeller pump, and the design and maintenance of this pump are very simple. These pumps are perfect for huge flow rates as well as low-pressure fixing. Single stage pumps are normally used in pumping services like high-flow & low to moderate total dynamic head (TDH).
Two Stage Pump
The two-stage pump can be built with two impellers which are working side by side. These pumps are mainly used in middle head applications.
Multi-Stage Pump
The multi-stage pump can be built with two or three impellers which are connected in series. These pumps are used for high head service.
Applications :
The centrifugal pumps are the frequently used pumps, and the flow of fluid makes them useful in several applications like
Pressure boosting applications
Water supplying & distribution
Domestic necessities,
Support system for fire hydrants
Regulating boiler feed water
Waste water treatment in ETP & STP applications
Liquid Transfer applications
2) Vertical Centrifugal Pumps
Vertical centrifugal pumps are also called as cantilever pumps. These pumps use an exclusive shaft & maintain design that permits the volume to fall within the pit as the bearings are external to the pit. This mode of pump utilizes no filling container to cover the shaft however in its place uses a throttle bushing.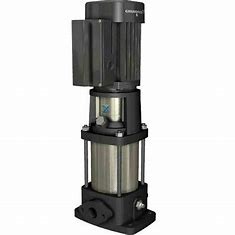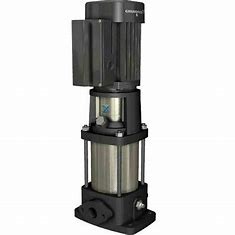 Applications :
High Pressure boosting applications
Applications where Lower foot print area is required
Reverse Osmosis systems
Ultra filteration applications
Waste water treatment in ETP & STP applications
High viscous Liquid Transfer applications
3) Horizontal Centrifugal Pumps
These types of pumps include a minimum of two otherwise more impellers. These pumps are utilized in pumping services. Every stage is fundamentally a divide pump.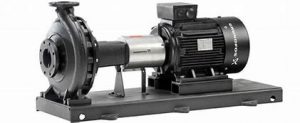 All the phases are in a similar shelter & mounted on a similar shaft. On a solo horizontal shaft, minimum eight otherwise additional stages can be mounted. Every stage enhances the head by around an equal amount. Multi-stage pumps can also be single otherwise double suction on the first impeller.
Applications :
High Pressure boosting applications
High temperature operations
Applications where higher head area is not available
High discharge & High pressure applications
Spraying systems
Waste water treatment in ETP & STP applications
Low suction Liquid pressure Transfer applications
4) Submersible Pumps
These pumps are also named as Stormwater, Sewage, and Septic pumps. The applications of these pumps mainly include building services, domestic, industrial, commercial, rural, municipal, & rainwater recycle applications.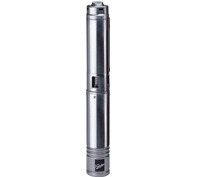 These pumps are apt for shifting stormwater, subsoil water, sewage, black water, grey water, rainwater, trade waste, chemicals, bore water, and foodstuffs. The applications of these pipes mainly include in different impellers like closed, contra-block, vortex, multi-stage, single channel, cutter, otherwise grinder pumps. For different applications, there is an extensive selection is accessible which includes high flow, low flow, low head, otherwise high head.
Applications :
Drainage
Slurry pumping
Sewage pumping
Bore & open wells
Sea water handling
Waste water treatment in ETP & STP applications
Artificial lifts & Offshore Rigs
5) Fire Hydrant Systems
Fire hydrant pump systems are also named as hydrant boosters, fire pumps, & fire water pumps. These are high force water pumps intended to enhance the capacity of firefighting of construction by increasing the force within the hydrant service as mains is not sufficient. The applications of this system mainly include irrigation as well as water transfer.
6) SHEAR PUMPS
The very basic difference between a normal centrifugal pump and shear pump is the design and construction of impeller. The Shear Pump uses an intermeshed rotor and stator system of impeller to disperse particles into liquid.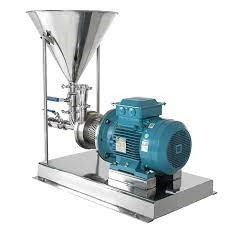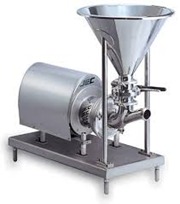 Mixing and pumping in single unit is certainly an advantage for variety of applications that require both pumping and mixing inline or in a single pump. Shear Pump certainly is an advantage for many such industries and applications which require cost effective and performance-based solutions for their pumping and mixing needs.
Applications :
Dairy Industries
Automatic Sugar syrup lines
Pharma Industries
Food & Beverage Industries
Breweries
Chemical industries