The Situation
Proposed wastewater treatment plant with a vision to develop a sustainable and carbon neutral urban water front promenade M/s Ecolab design proposes to install Effluent treatment plant to offset the fresh water consumption for gardening / irrigation purpose at reclamation garden Bandra, Mumbai.
To achieve this task site survey for assessing Quantity and Quality of Waste Water carried out by AGUAPURO.
Aguapuro carried out the treatability studies on the waste water and arrived at the optimum treatment process, which is versatile in operation.
A Membrane bioreactor (MBR) processes are mainly used for wastewater treatment (WWT) by using microfiltration (MF) or ultrafiltration (UF) and integrating them with a biological process like a suspended growth bioreactor. The membranes are employed as a filter removing the solids which are developed during the biological process, which gives a clear and pathogen free product.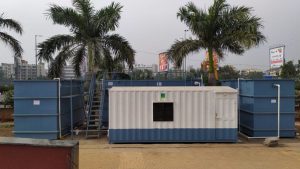 Highlight
Sewage discharged into sea is collected at drainage outlet & treated to reuse water for gardening of Reclamation Garden at Bandra.